You already have a unique series AA commemorative sheet of St. Norbert?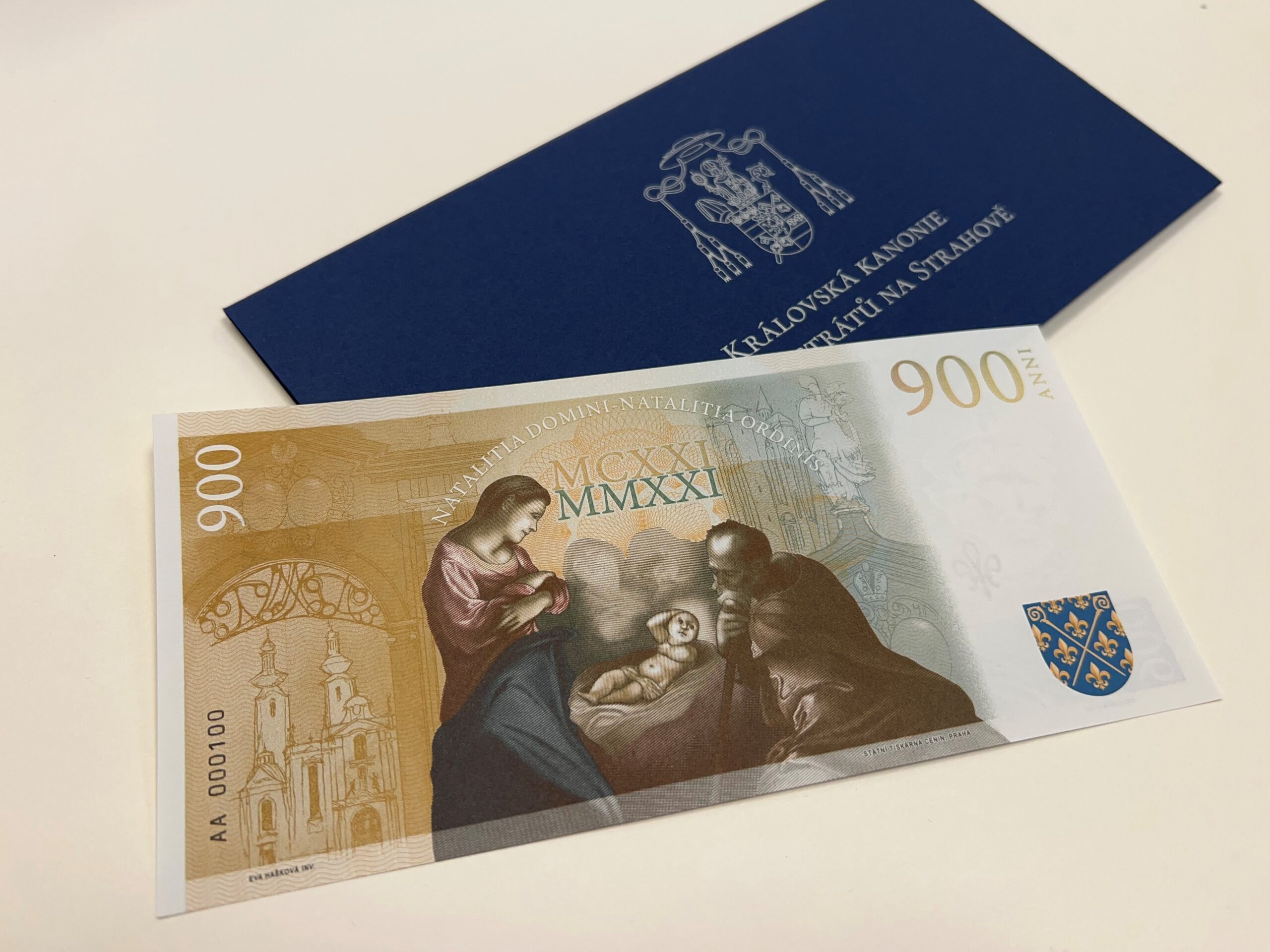 More than a year ago, the Strahov Royal Canonry approached us with a proposal to make a commemorative banknote for the Premonstratensian Order. We were happy to accept this challenge because it is truly an extraordinary project. A commemorative card in the form of a banknote of the Premonstratensian Order is now available and it is issued on the occasion of the 900th anniversary of the founding of the first Premonstratensian monastery in the Prémontré Valley in present-day France. From the artistic point of view, the work was undertaken by the artist Eva Hašková, the author of the first Czech commemorative banknote with a portrait of Alois Rašín. The line drawing and hand-made steel engraving were done by none other than our colleague, the engraver Martin Srb. Michal Šindelář took up the graphic design of the banknote. For the printing itself, we used banknote security printing paper with a portrait watermark and security threads and printing techniques of intaglio printing, offset printing, letterpress printing and hot stamping.
A commemorative sheet in the form of a banknote was issued by the Premonstratensian Order on 11/30/2020 in a print run of 50,000. The unique AA series was prepared only for the collection with a gold medal with a portrait of St. Norbert based on an artwork by Karel Zeman. On the STC e-shop we offer a part of the AA series, the last separate 67 pieces of the commemorative sheet.
AA 000034- 000100
The gift box of the commemorative banknote is made of high-quality 240 g/m2 graphical paper.
Author of the art design: artist Eva Hašková
Line drawings and hand steel engravings: Martin Srb
Technical work: František Dvořák
Graphic security design: Michal Šindelář
Print: STATE PRINTING WORKS OF SECURITIES, state enterprise
Issued by: KLÁŠTER STRAHOV – COMMERCIUM, s.r.o.
Follow our For Collectors, where we will keep you informed about of others products.
Make yourself or your loved ones happy with an original gift. Commemorative sheet in the form of a banknote with a portrait of St. We offer Norbert in a limited edition of only 67 pieces and can only be obtained through our STC e-shop.