The Ivančice Commemorative Sheet was printed in our printing works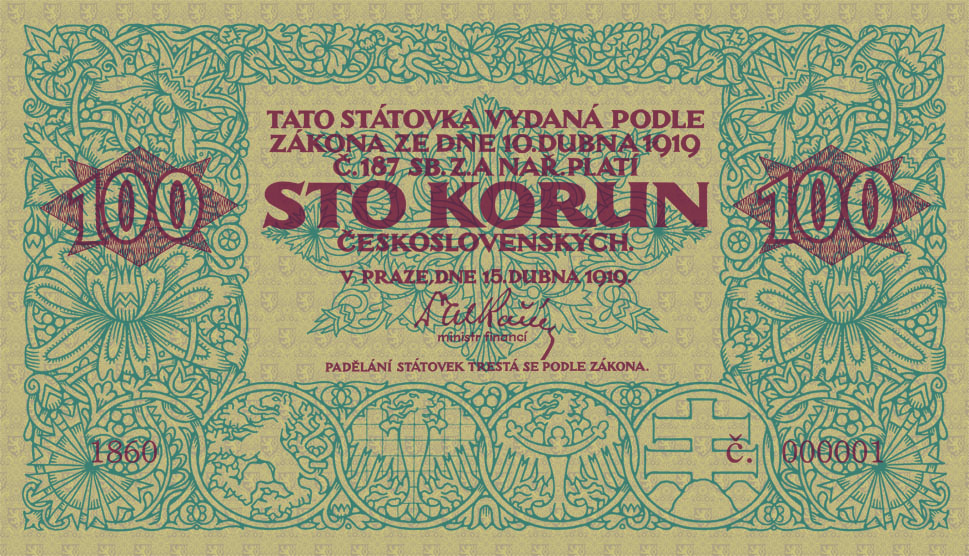 The town of Ivančice celebrates the 100th anniversary of the creation of the independent Czechoslovak state by printing a commemorative sheet authentically modelled after a 100-crown banknote designed by Alphonse Mucha, a native of Ivančice. Alphonse Mucha is among the significant Czech artists who have become an indelible part of the history of the State Printing Works of Securities (STC). He contributed greatly to the designs of the first Czech banknotes for the independent state. Therefore, the printing of this commemorative sheet could not be done anywhere other than in our printing works.
An annual commemorative sheet is printed on actual banknote paper with a continuous watermark, the motifs of a leaf and a star, which was used for the last time in the Brunovský issues of the 1990s. This commemorative sheet requires special storage and handling during the manufacturing process, which follows strict safety rules, as if printing legal banknotes. The commemorative sheet is equipped with a protective element by means of letterpress and with the symbol of the town of Ivančice on the front side, which is visible only under a UV lamp.
We would like to thank the Czech National Bank for the materials provided and the town of Ivančice for choosing STC to realise this commemorative sheet. We hope this sheet has a positive response among both professionals and the public.