The CNB issues a CZK 1,000 anniversary banknote with an additional print of a stamp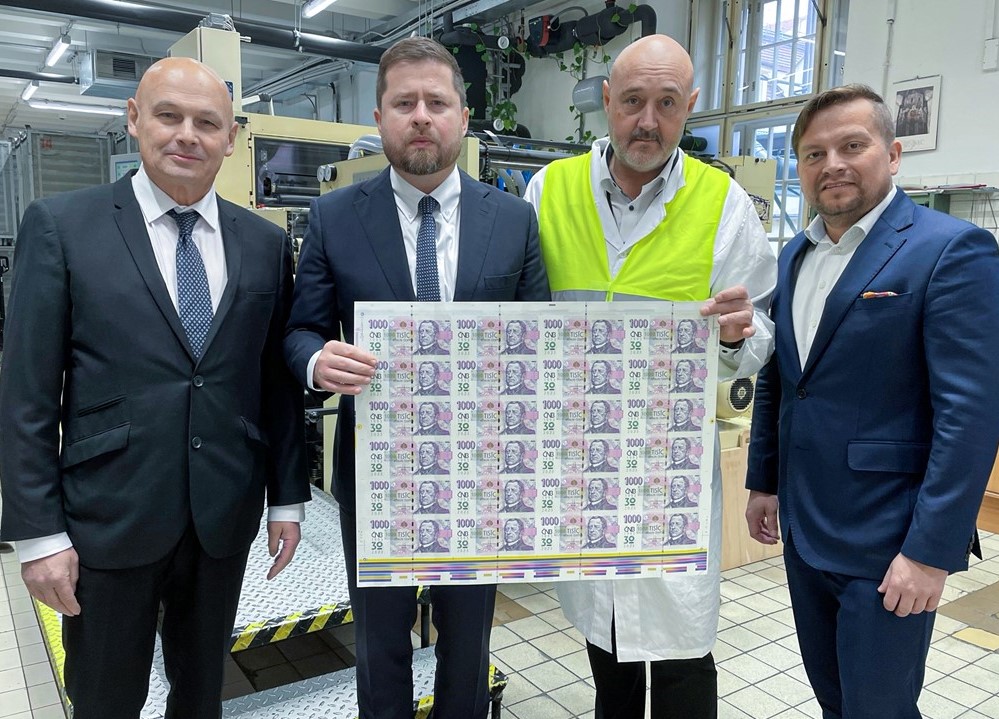 The CNB will issue a new CZK 1,000 banknote with an additional print in the form of a banknote stamp and an anniversary logo to mark 30 years since the start of the successful of the Czech-Slovak currency separation. This banknote could not have been printed anywhere but in our company, the State Printing Works of Securities.  
In December, the printing of the banknote reached its peak and Czech National Bank Governor Aleš Michl came to STC to see the finalisation in person. The anniversary banknote consists of a 2008 version CZK 1,000 banknote with an additional print on the face side of the coupon. As the banknote refers to the 30th anniversary of the establishment of the Czech and Slovak koruna – which was also associated with the minting of banknotes – this additional print features the motif of a 1993 CZK 1,000 banknote stamp and the 30th anniversary logo of the CNB created by academic painter Jan Solpera. The additional print does not affect the value or validity of the banknote, so it can be used to pay for goods and services.
Would you like to own this interesting collectible? It will be available from 8 February 2023 onwards in exchange for other Czech banknotes or coins worth a total of CZK 1,000 at all CNB offices while stocks last. The banknote cannot be obtained from the State Printing Works of Securities or the STC e-shop. 
Watch the Czech National Bank's video introducing the new banknote.