Governor Rusnok participates in the completion of a commemorative banknote with portrait of Engliš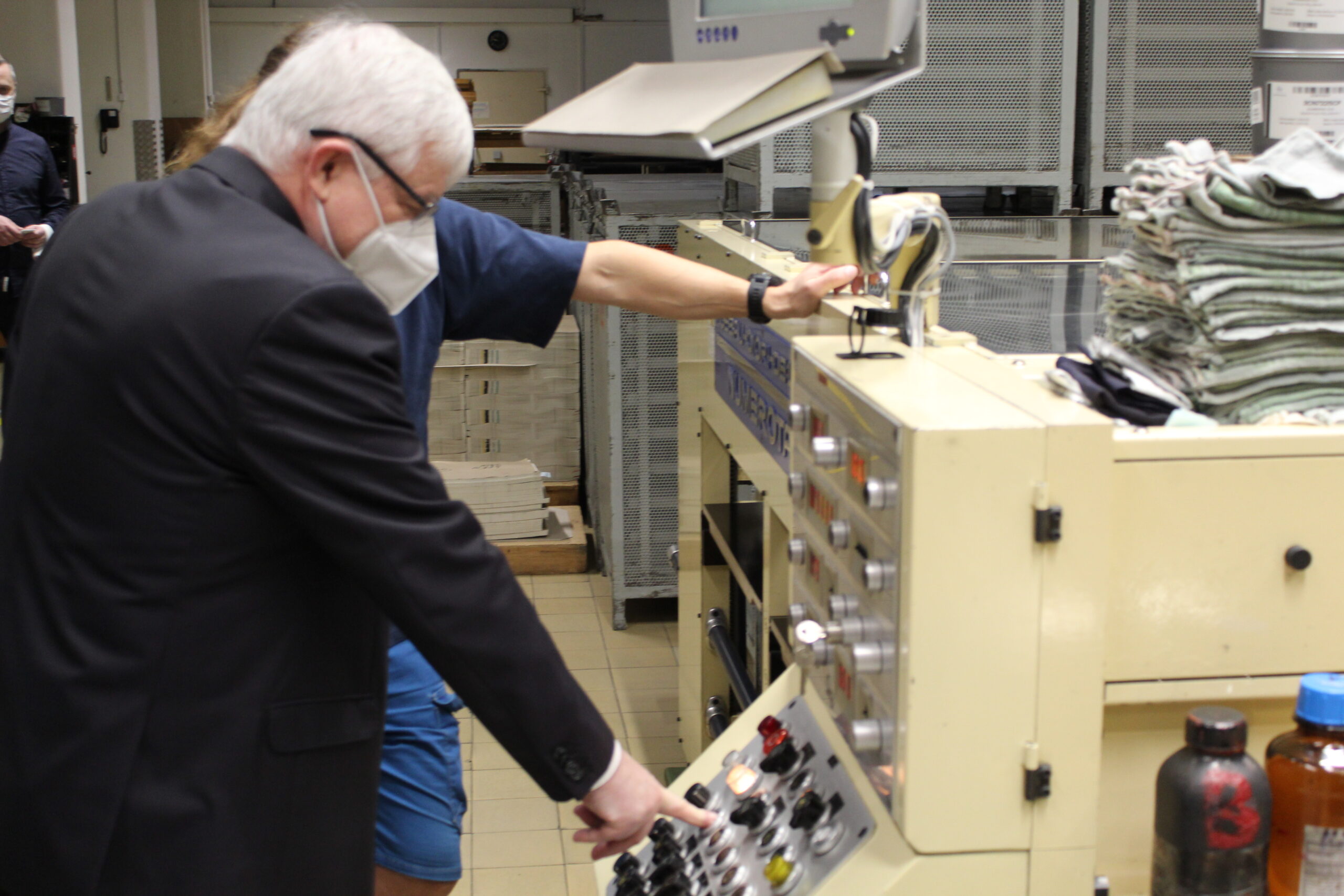 The Governor of the Czech National Bank, Jiří Rusnok, visited our securities printing works so that we might present the progress of the implementation of the commemorative banknote with a portrait of Karel Engliš to him. The finishing phase of the process is currently being culminated. The Governor was personally present at the printing of the numerical series. The banknotes now need to be cut to the correct size, subjected to strict quality control and shipped to the CNB. This is the second commemorative banknote issued by the Czech National Bank on the occasion of the 100th anniversary of the establishment of the Czechoslovak currency. The intention to issue a second commemorative banknote with a face value of CZK 100, model 2022, with a portrait of Karel Engliš, was approved by the Bank Board of the Czech National Bank on 3 October 2019. In all, a set of three commemorative banknotes is to be issued between 2019 and 2026. In order to ensure the artistic and technical uniformity of this set of commemorative banknotes, academic painter Eva Hašková, winner of the CNB's art competition for the first commemorative banknote with a portrait of Alois Rašín, was again invited to create artistic designs for the second and third commemorative banknotes.
We are proud that the Czech National Bank has chosen STÁTNÍ TISKÁRNA CENIN to produce the first commemorative banknotes in the history of the Czech Republic.
Basic technical specifications:
Dimensions: 194×84 mm
Printing techniques: the banknote is printed using a combination of intaglio, offset and letterpress printing methods and contains a hologram applied by hot stamping
Paper: cotton-based banknote paper with an incorporated security strip including a stepped figural watermark with a portrait of K. Engliš and an additional watermark made using electrotypical process
Circulation: 20,000 pieces
Printed by: STÁTNÍ TISKÁRNA CENIN, státní podnik
Issuer: Czech National Bank
Issue date: 30 March 2022