Add to your collection with the latest commemorative banknote from the Academy of Arts, Architecture and Design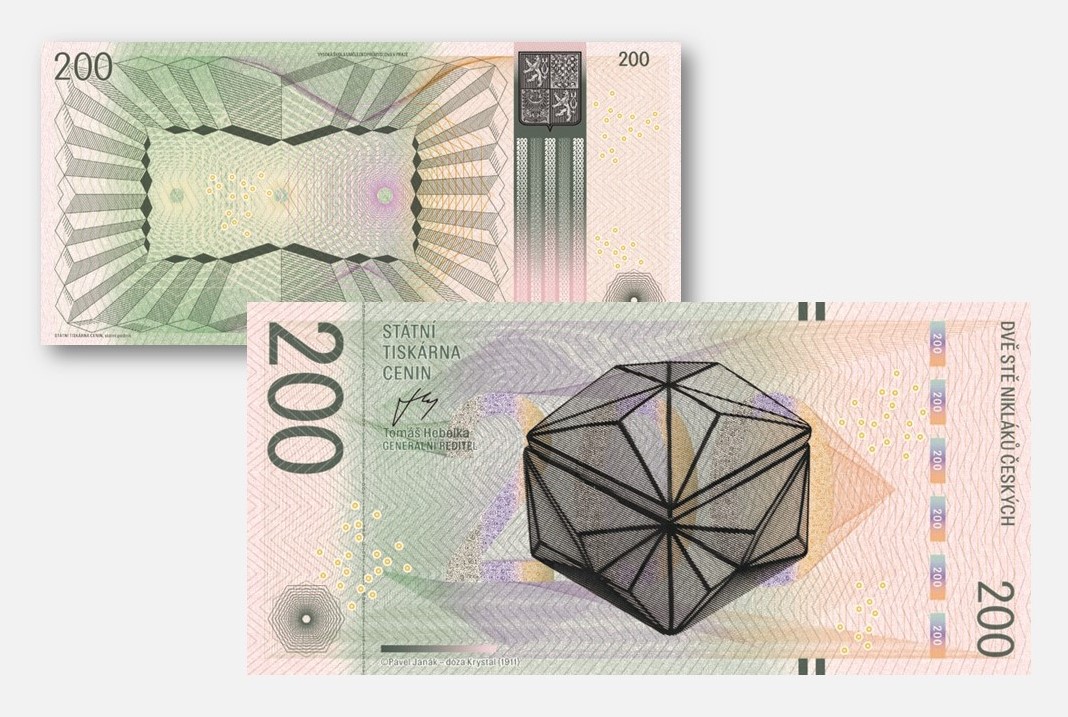 The commemorative banknote, with the motif of a crystalline cubist box, is the result of close cooperation between the STÁTNÍ TISKÁRNA CENIN (State Printing works for Securities – STC) and the Academy of Arts, Architecture and Design in Prague. STC has prepared and printed the commemorative banknote according to a design by student Tuan Vuong Trong, who has used motifs of Czech applied art as a way of presenting national wealth. The commemorative cubism banknote presents a box in the shape of a stylised crystal, a legendary work from 1911 by Czech architect and designer Pavel Janák. The obverse of the banknote depicts the cover of Otokar Fischer's book of poems "Ozářená okna" designed by Czech typographer and illustrator Vratislav Hugo Brunner.
The commemorative banknote can be purchased separately or in a gift cover, folder with a transparent pocket (PVC) for the print placement. Thanks to the use of a high-quality graphical paper with the grammage of 300 g/m2 in the dark green colour Keaykolour Original Holly and the intaglio printing technology, your product will become an original and exceptional gift for your loved ones or business partners.
The commemorative banknote featuring the "cubism" motif cannot be reserved. It will be available for purchase from the STC e-shop from 1st December 2020.
Your purchase will contribute towards other projects implemented by the Academy of Arts, Architecture and Design in Prague. Support young talent and build a comprehensive collection of bank notes designed by the sharp eyes of today's young generation. 
Follow our Issue Plan, where we will keep you informed about future sales of commemorative banknotes from the entire student design series. Create a unique and comprehensive collection for yourself or your business partners.